8 Creative Family Photo Ideas You Should Try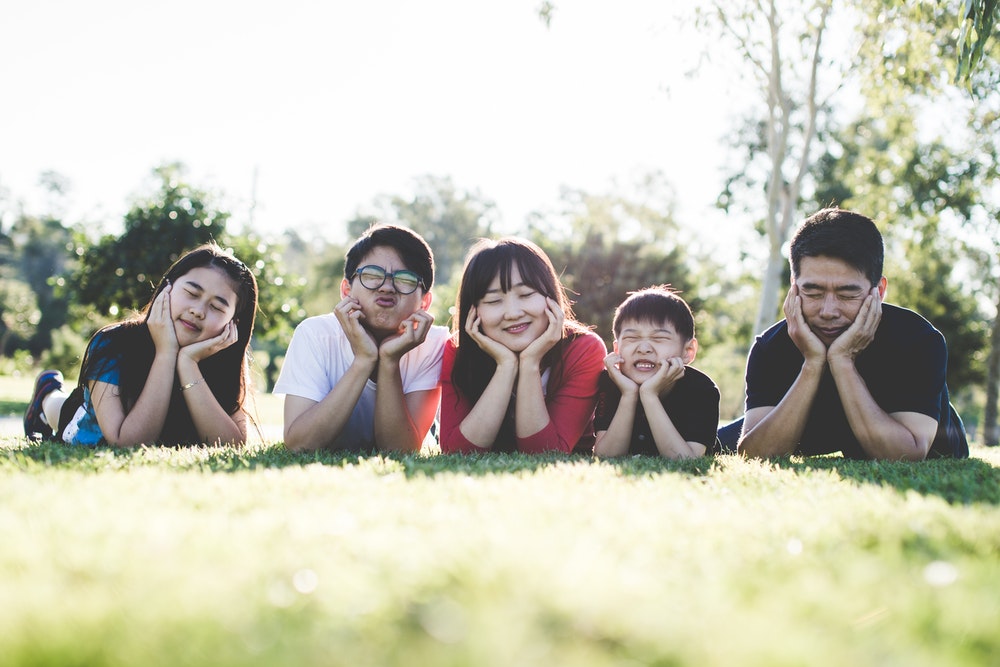 Family is the most important thing that anyone has. But the laws of nature work the same for everyone. The kid that you loved to carry in the laps would grow bigger than you thought without you even realising it.
This is the main reason behind people paying so much attention to family photos. In order to make your family photos even better, this article will list some of the best family photo ideas.
Whether you want to keep photos in the photo book or you want to make it artwork for your walls, these ideas will work the best for you. Let us take a look at it.  
Front door as a background
The front door works as a nice background for posing if you want some really nice family photos. All those who have wooden doors can add extra beauty to the photo. When you are planning to get the best family photos, you should find out all the unique features of your home.
The front door creates quite a positive feeling as it is an entry to your home. It is something that shows you the entry to somewhere which in turn is related to the beginning. This is the main reason behind using the front door as a background of your family photo. 
Do something typical (in their day)
Candid photos are always in demand. It is because they feel quite natural and people love that kind of photos. Think of it as a photojournalism exercise, where you are documenting an average day. When you are looking for family photo ideas, you should try to do something like this.
There are several things that people love doing as a part of their daily routine. Parents love to share moments with their kids, and something like that. You may pose in that manner to make your photo more pleasant. 
There is a large number of ideas like this. Anyone would agree about how pleasing it is to see a mother playing with her baby. You can capture moments like that and it would be really pleasing and soothing. The idea behind such poses is to enable you to tell stories with the help of the photo.
A photo is considered great only when it is able to tell some story. And when there is some activity in the photo, you are telling a story that makes your photo more precious. 
Make the subject play with water
When you are planning to get a perfect family photo, try to bring happiness to the subject's face. Let loose your subject and if there are kids, leave them free for some moment.
The best way to bring the playfulness in the photo is by including the water in the photo. When there is summer, playing with water will make you happier than ever. And such a situation will give your photographer too many opportunities for capturing the best shots.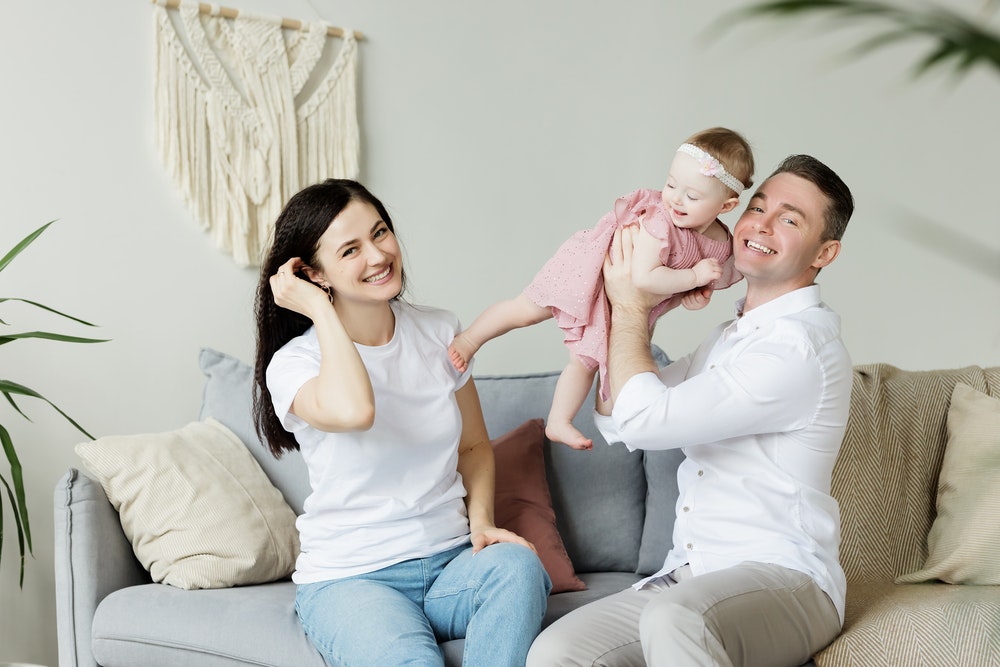 Capture moments in a park or nature
There is no end to the list of places that you may use for capturing the best family photos. If the subject is surrounded by nature, it will add some extra beauty to the photograph.  The best way to get photographs of that category is using the park.
Just take a walk in the park with your family members. When the family members walk along in the park and have some light moments, it acts as the best moment worth capturing. See our main image of this article. Pose a family on the grass, and we get a unique perspective.
Use an indoor game setup
The best way to bring more fun to the photo is by using an indoor game setup. There are several games that kids love to play like toys, board games, etc. These are the indoor games that kids love to play.
Keep the subjects engaged in the game while the photographer figures out the best shot. There should be enough natural light in the room during this time. Shooting these photos in a room with big windows will help you a lot. 
Group cuddles work the best
Family is all about affection and attachment. A great family photo will have some emotions embedded in it. A group cuddle is a situation that brings all the family members together and all the members are quite happy at the same time.
Such a moment brings too much happiness to the face of each family member. You must have seen some photos of this category and all those photos are very much able to define the meaning of a family in its purest form.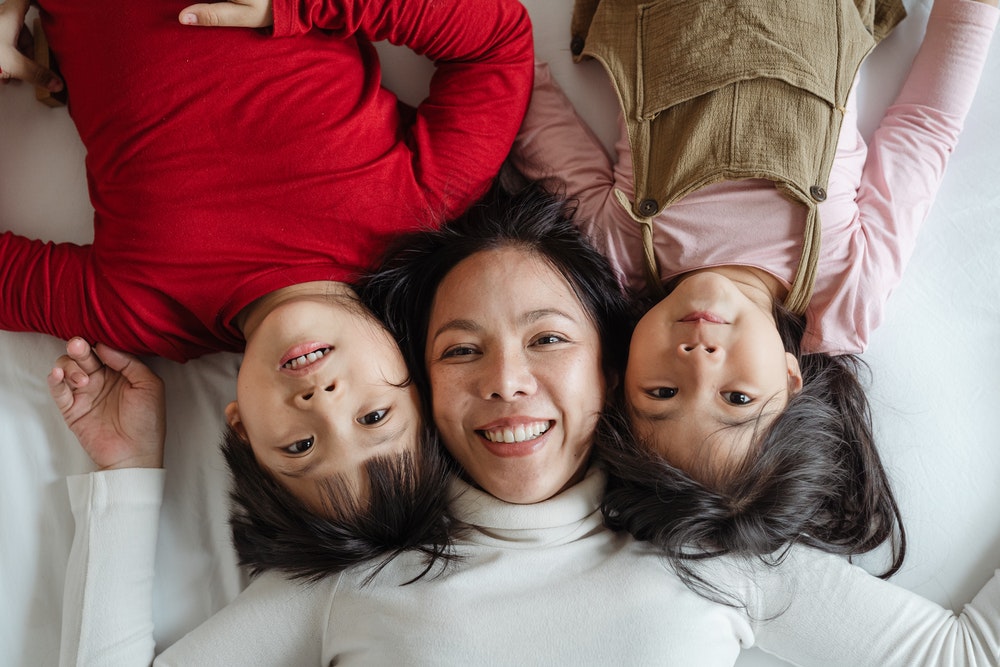 Try to pose on the bed or a fluffy rug
This is one of the best ideas to create some amazingly relaxed photos. The bed is the place where we get to sleep and that is the reason why we get relaxed after looking at the bed. It also creates a very beautiful and natural surrounding.
The ideas to get a shot here are enormous. You can either lie flat on the bed or read something on the bed. You can also make the subject lie on the bed and take a bird's eye view of the subject. 
You can also include the baby for more soothing effects. Such a photo will help you create a photo that would be a reference to the act of parenting. No matter what pose you have opted for, make sure that calmness is reflected by your pose.
See the image above for an example of this.
Attempt to capture imperfection
A perfect photo is one that has some imperfections in it. Try to capture a moment that seems real and as a part of your life. Take a look at the way kids live their lives, do you find any perfection there?
They just mess around, spill things at different places, and that is the very essence of childhood. You can capture such moments to express the real charm and fun of a family. After capturing the photo, you will find that the thing that you considered a mess is actually the beauty. 
Final words
We wrote this article to give you some nice family photo ideas. Try to focus on these creative challenges and unusual ideas. Though the preparation may differ based on culture and place. People belonging to different parts of the world live their lives differently.
This is the main reason why happiness has several expressions. Don't limit your perception when it comes to capturing precious family moments. You will learn a lot once you get started.
---
About the Author
Emma Taylor is an Australian blogger and photographer, who lives in Melbourne with her two cats, where she frequents live theatre and wine bars.