Dance Photography: How to Best Capture This Style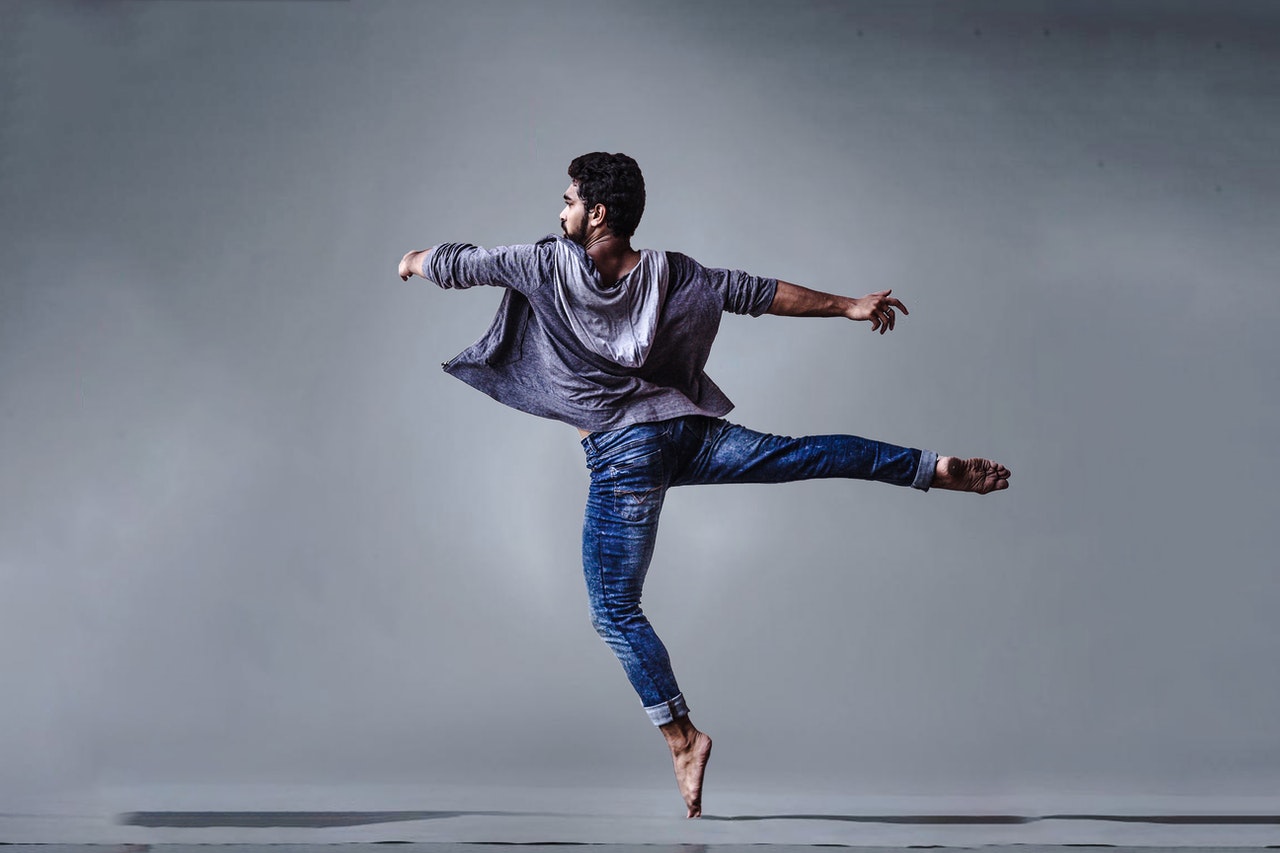 Dance photography is a genre that focuses on capturing different dancers while they are performing their dance forms. Dance has always been considered one of the most beautiful and appealing arts. 
When you learn to capture dance photos the right way, you can simply bring life to the photos. It is not necessary that dance photography will happen only while the dancer is performing on the stage. You can plan the photos of a dancer in the right pose at different locations. 
Having a relevant dancing costume with the right dancing posture will bring out the message that you want. This article is intended for beginners who want to get started with it. Here are a few valuable tips and tricks to help you get started the right way. 
Have a look at the gear suitable for it
Knowledge about the right gear is very important before you get started with it. Many believe that it is about the story not about the gear when it comes to capturing stunning photos. 
Cameras with bigger sensors work the best in capturing the fine details i.e. DSLRs or mirrorless ones. The problem is you get to shoot photos of this class inside theatres or other such places. This is the main reason why you will be shooting in the low-light conditions in the majority of cases. When you have a full-frame camera, your photos will be stunning because more light will enter and there will be less noise. 
Talking of types of lenses, going for a zoom lens would be nice. This is simply because you will not get a seat near the stage every time. When you are sitting far away from the stage, you might find it hard to get a clear shot with a standard lens. 
A good quality zoom lens will provide you enough freedom to always capture the best photos irrespective of your position in the theatre or any other such place. If you are confused about the right choice in this category, go for a 70-200 mm lens as it works the best.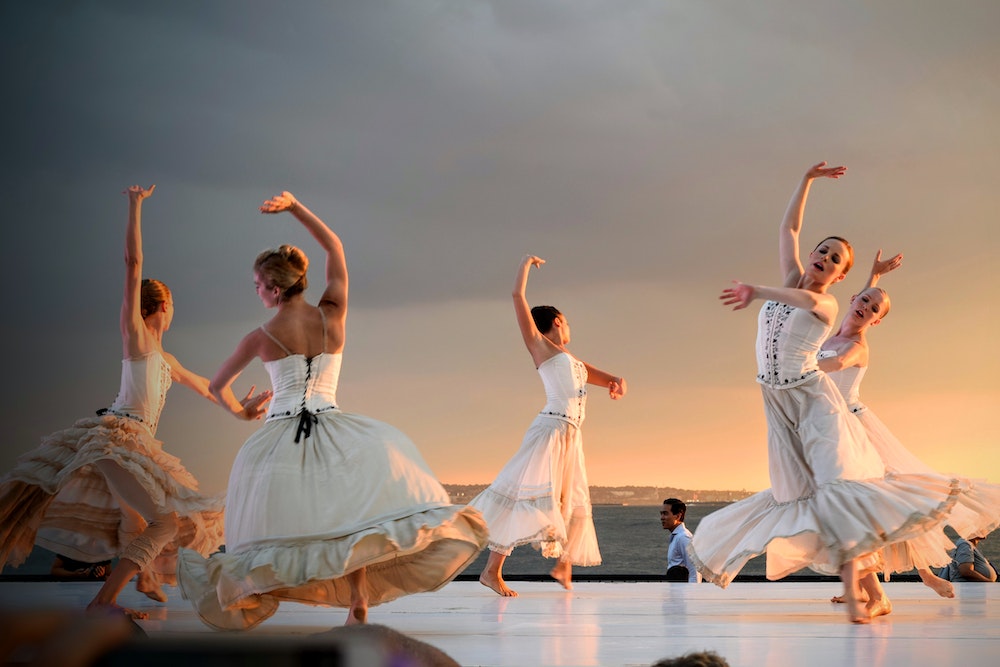 Tips for getting the best photos
Dance moves are quite complex and they differ significantly from one another. Shooting the image at the right time is very important because your audience should get the idea about the dance move you have captured. 
Since you are well aware of the gear you need in this case, all you need to do is shoot the images at the right time. This is all that the upcoming tips are going to be all about. Let us start taking a look at them one by one. 
Start by capturing the famous poses
You might not get enough idea about choosing the right pose so that your viewers will be able to understand the way you do. The best way to get started with it is by shooting photos of the most popular dance poses. 
It will give you some idea about the way people perceive photos from dance photography. When you begin like this, you can predict the perfect pose precisely and hence you will be able to get the right picture.
Mind the camera setting based on specific situations
We have recommended the right gear for it but you need to have different camera settings in different scenarios. Let us discuss the case when you will shoot images of individual dancers. 
Capturing such images in a wide-open way works the best. Start by setting the f-number to the lowest possible that your camera aperture setting allows. It will smoothly blur out the background and your subject will stand out from the surrounding. 
The movement of the dancer can be frozen very easily with the help of a high shutter speed at low ISO. Doing it becomes really easy once you increase the aperture value. Things become quite different in dance photography when you have to shoot images of a group of dancers. Several shows related to dance involve a group of dancers. 
All the performers should be in focus in such cases and doing that is not much difficult. Increase the f-number to higher levels. Increasing this value to significantly higher levels might inhibit the amount of light entering the lens. Make sure you are going to favourable values based on the situation. 
Don't forget to adjust other settings like aperture, etc. in accordance with the value of the f-number. Higher f-numbers give you a clear image of multiple artists performing at different planes. You can keep the main performer in focus by following the tips for individual dancers in this case. 
Opt for black and white at suitable times
Dancing is all about art. You can make even regular things look artistic in the black and white mode. Applying this technique to dancing photography is going to make things even better in this case. Black and white photos look great but there is a catch when it comes to getting the best. 
Shoot the photos in RAW and colour, it is the post-processing that will bring about the desired result. Though it will take a bit of time for you to master this art because not all the photos look great in monochrome. Practice will make you able to choose the right photo here so there is nothing to be worried about.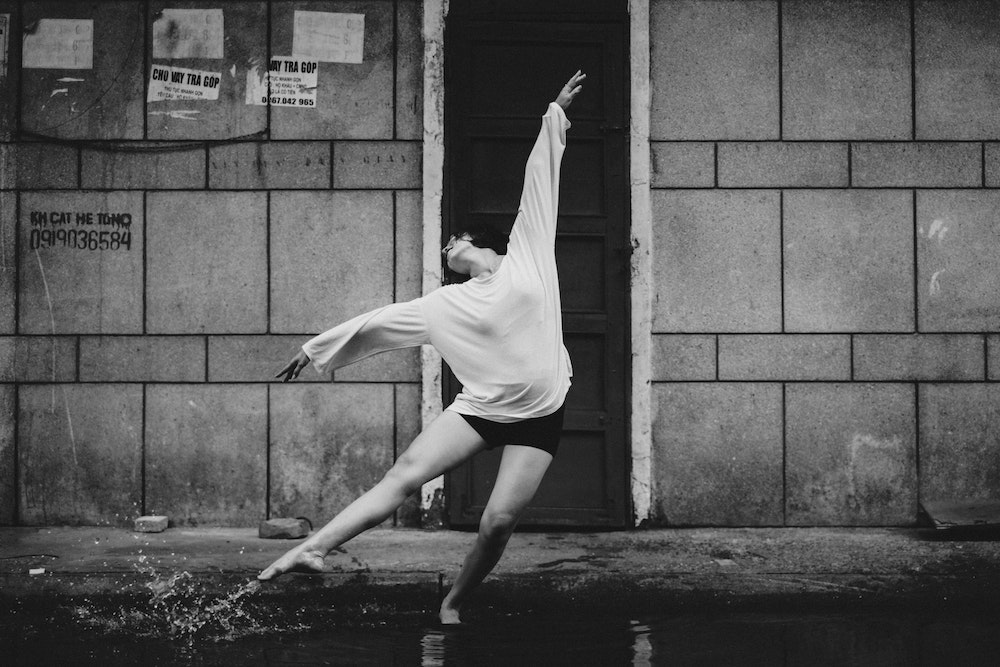 Go for mid-air shots
Mid-air shots always seem authentic and candid. Capturing such shots in dancing photography can give you the best results. Getting such freeze shots gets easier by opting for manual mode or shutter priority mode. 
Make sure the shutter speed is higher than 1/1000 for the best results for capturing freeze moments the best way. Burst mode will help you further in getting the perfect frame. 
Practice plays the best role
Just like all other skills, practice is going to be the most valuable thing for you. You should never skip a chance when it comes to joining some program related to dance. Shoot photos and see where you need to work more. You will get enough ideas about that over time. 
Photographers! Earn a $200 Sign up Bonus...
Ever thought of licensing your photos? Upload your portfolio we'll give you a $200 head start in your account. Earn 30c per download and get paid when balance reaches $300. (more details)
Final thoughts
Dancing photography is not something so complex. Getting a grasp over it is really easy. You just need to spend some time and that is the natural way of learning almost anything. 
These photos when shot the right way seem more alive than other categories. That is one of the most important reasons why you should give it a try.
---
About the Author
Justin Andrews is an amateur photographer who enjoys shooting products, buildings and portraits. Justin writes for a few media outlets, his own blog and other websites.