7 Best Photography YouTube Channels to Follow
YouTube has become a platform for creative-minded people to share their content creation skills. Everyone can now create an account, host their own channel, and make entertaining videos for the world.   
This platform has also become the top choice for those wanting to learn something new. You can find almost everything you want to know by typing on its search query, and voila! Tons of educational and how-to videos are presented right in front of you. 
Although many types of video content have ruled YouTube for years, instructional videos and webinar content are among the most viewed content on the platform. Now, it's clear that the platform is a perfect online place for those who want to learn and develop new skills for free , including photography.
And if you have a strong interest in photography and aim to be a professional photographer, check out these YouTube channels to improve your knowledge. 
This channel has been around for more than ten years, helping people learn about photography from scratch. Run by Ted Forbes, The Art of Photography provides plenty of content with top photography tips and tricks to make good shots as well as hacks to edit them.  
The channel accentuates the importance of visual storytelling on each shot. Forbes will then lead you to learn how to make a good shot that conveys messages.    
Matt Day works as a film photographer across the United States. With years of experience, he has a solid understanding of filmmaking as well as the equipment. 
Day has diverse content on his channel. He mostly makes a review on different cameras to help people choose the right one for their needs. He also produces content like photography techniques and shoots in general. 
If you're just starting, watch Day's videos to improve your knowledge in no time. 
Founded by Daniel Inskeep and Rachel Gulotta, Mango Street has become a popular photography channel with over one million subscribers to date. The channel offers wholesome content around photography tutorials, tips, and tricks for beginners. 
There are dozens of photography knowledge you should check out immediately. Gulotta and Inskeep have plenty of different playlists from basic photography, how-tos, photo critics, video editing, and more. 
The founders also have a separate YouTube channel that you may want to look up. The other channels focus more on talking about personal finance, fitness, vlogs, etc.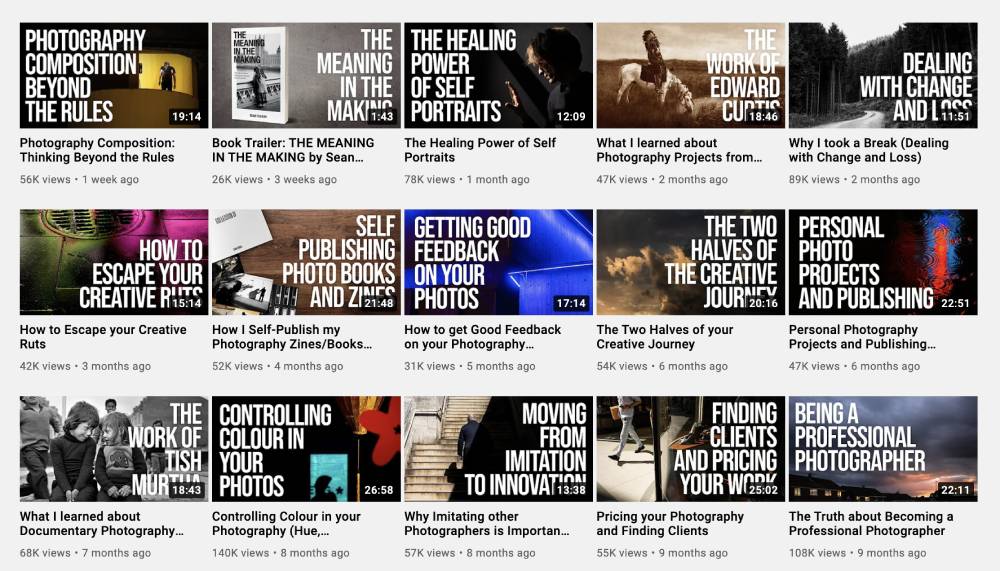 Sean Tucker Photography YouTube Channel
This channel has over 19 million video views combined, making it one of the mandatory YouTube channels to learn about photography. Run by Sean Tucker, the platform has become his outlet to share his love for photography. 
Tucker is interested in "the why" of photography rather than "the how." He believes that good photography lies in the reason why we make it in the first place. 
He's keen on the idea of photographers who can really see the visual upon them, not those with the best gear, because only the former will produce a high-quality shot. Therefore, he aims to teach his audience with this very perspective.  
Windsor's video is great for those trying their chance in the photography field. There is a lot of helpful content on this channel that helps beginners, even professionals, to improve their skills. 
This channel is among the popular photography channels on YouTube. Windsor's videos are on many users' timelines in the past years, allowing new viewers to subscribe to the channel shortly. 
There is various content inside Windsor's channel, including tutorials, critics, reviews, and more. Make sure to check his channel to broaden your knowledge of photography. 
Kai W is a photography nerd who will help you learn more about filmmaking, photo editing, and making beautiful shots. His channel is the go-to place for those seeking photography tips and camera reviews. 
Kai's channel will bring you to think along with his brilliant mind to produce good shots. He narrates the video clearly without leaving you bored midway. His videos are informative yet easy to understand, even when you're a complete beginner. 
Kai produces a highly-famous video series called street photography, where he shares stunning shots from unlikely places. His super bokeh photography series has also gained a number of views over the past months. 
Kobeissi is hands down one of the biggest photography YouTubers on the list. She is living her dreams by traveling the world, making wonderful shots, and producing videos on social media. 
Her videos have helped people with an interest in both photography and fashion. Many have acknowledged her tips to be useful for those in creating shots around the niche. 
Kobeissi's channel has over one million subscribers with more than 150 million video views combined. Her video content involves tips, tutorials, video, and photo editing, as well as a few of her daily vlogs. This makes her channel even more attractive to the audience. 
Takeaway 
Learning about photography has never been easier ever since the advent of the internet. You can find a handful of photography subjects online freely. 
YouTube is a must-use platform when it comes to learning photography skills. There are a lot of creators out there who make entertaining videos and also give advanced tips for free and cover photography information from the ground. 
Whether you're beginners or professionals looking for second opinions, those photography channels mentioned above will help you improve your knowledge. Check out their channels now and start taking your photography skills to the next level.
---
About the Author
Andre Oentoro is the founder of Breadnbeyond, an award-winning explainer video company. He helps businesses increase conversion rates, close more sales, and get positive ROI from explainer videos (in that order).